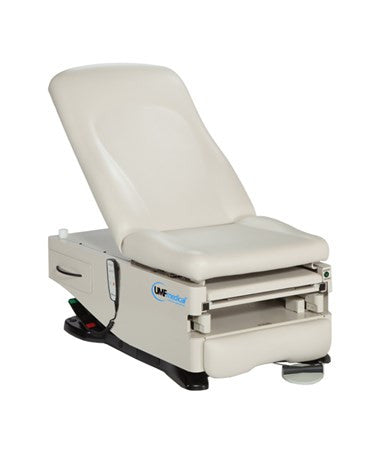 UMF 4040-650-300 Power 100 Exam Table
The UMF Power 100 Exam Table is designed to bring extended benefits to your healthcare practice. This unit provides an enhanced safety and accessibility to your patients, creating a comfortable environment for users. Extra storage space, many adjustable features and optimal size add great practical value and help deliver a real patient-centric care.
Product Highlights
Power & Manual Back Options 
OneTouch Stirrups with 4 Lateral Positions
Elevating Leg Cushion & Pull-Out Footrest
Electro-Mechanical Actuator System Ensures Efficient Speed
OneTouch WheelBase Option for Excellent Mobility 
Call: (954)756-3325 or Email: sales@apexxmed.com for pricing!!!